Full-Text Access to the Electronic Editions of the American Studies Journal and the ASJ Occasional Papers:
No. 70 (2020)
Digital Pedagogy in American Studies
Edited by Ingrid Gessner and Uwe Küchler
OP 18 (2020)
Playing for Keeps: The Diggers, Life-Acting and Guerilla Theater in San Francisco's Psychedelic 60's
by Sean Steele
No. 69 (2020)
Miscellaneous Articles
Edited by Heike Paul, Martina Kohl, and Hans-Jürgen Grabbe
OP 17 (2020)
Liquid Genealogy: Choice, Race, and Neoliberal Subjectivity in DNA Ancestry Advertising
by Emma Jacobs
No. 68 (2019)
Distance Matters: Approaching US Social Movements and Race/Ethnicity from a French Perspective
Edited by Sandrine Baudry, Guillaume Marche, and Céline Planchou
No. 67 (2019)
Women's Voices from the House of Time (Part II)
Edited by Martina Kohl
No. 66 (2019)
Miscellaneous Articles
Edited By Carmen Birkle and Maria Moss
OP 15 (2018)
The Fulbright Experience of Visiting Scholars from Post-Communist China: A Qualitative Study and a Critical Evaluation
by Meirong Fu
No. 65 (2018)
Cultures of US-American Conservatism
Edited by Susann Köhler and Andrew S. Gross
No. 64 (2018)
Miscellaneous Articles
Edited by Hans-Jürgen Grabbe and Martina Kohl
OP 14 (2017)
Managing One's Station: Robert Roberts and the Professionalizing of Domestic Service
by Carolyn R. Maibor
No. 63 (2017)
The Plain People: Contemporary Perspectives and Current Prospects
Edited by Sabrina Völz and Maria Moss
No. 62 (2017)
Miscellaneous Articles
Edited by Hans-Jürgen Grabbe
OP 13 (2017)
Having it all and "The Great White House" of Matcham in Henry James's Last Novels
by Priscilla Roberts
OP 12 (2017)
Fay Chong and Andrew Chinn: Asian Masters of American Art
by James W. Ellis
No. 61 (2016)
The Impact of the Internet and Social Media on US-American Culture and Society
Edited by Hans-Jürgen Grabbe
No. 60 (2016)
Lincoln in Europe
Edited by John Dean and Olivier Frayssé
OP 11 (2016)
American Berlin Across the Last Century
by Joshua Parker
No. 59 (2015)
Commemorating World War II at 70:
Ethnic and Transnational Perspectives
Edited by Birgit Däwes and Ingrid Gessner
OP 10 (2015)
Rape as Spectator Sport and Creepshot Entertainment:
Social Media and the Valorization of Lack of Consent
by Kelly Oliver
No. 58 (2014)
New Ways of Teaching English: The U.S. Embassy Election Project 2012
Edited by Martina Kohl and Torben Schmidt
OP 9 (2014)
The American Century and Its Evangelical Christian Fiction Legacy
by Marisa Ronan
No. 57 (2012)
Transfrontera: Transnational Perspectives on the U.S.-Mexico Borderlands
Edited by Astrid Haas and María Herrera-Sobek
No. 56 (2012)
The South in the Age of Obama
Edited by Alfred Hornung
No. 55 (2011) — also published as OP 8 (2012)
Women's Voices from the House of Time
Edited by Martina Kohl
Read what the Berlin newspaper Der Tagesspiegel had to say about this issue.
Reviewed by Nassim Balestrini, Amerikastudien/American Studies 58.4 (2013): 680–82.
OP 7 (2011)
Western History as (Post-) Colonial Studies?
by Brigitte Georgi-Findlay
OP 6 (2011)
Mark Twain's Relevance Today
by Gary Scharnhorst
OP 5 (2011)
"Making America": On A New Literary History of America
by Werner Sollors
No. 54 (2010)
Urban Culture, Urban Landscapes: Growing Up in the American City
Edited by Martina Kohl
No. 53 (2009) — revised edition published as OP 4 (2010)
Lincoln's Legacy: Nation Building, Democracy, and the Question of Race and Civil Rights
Edited by Jörg Nagler
OP 3 (2008; revised edition published 2010)
The Center for United States Studies at Martin Luther University Halle-Wittenberg: A German Gateway to the Study of the U.S.A.
Edited by Hans-Jürgen Grabbe
PDF (Complete, 5.3 MB)
Table of Contents
Chapter 1: Zur Geschichte des Zentrums für USA-Studien | A Brief History of the Center for United States Studies (PDF, 0.6 MB)
No. 52 (2008)
Arab-American Literature and Culture
Edited by Alfred Hornung and Martina Kohl
No. 51 (2008)
Ethnic Visions of the United States of America
Edited by Peter Freese and Martina Kohl
No. 50 (2007)
The Outlaw and the American Cultural Landscape
Edited by Keagan LeJeune
No. 49 (2007)
Special Edition: The Best of ASJ, 1996–2007
Edited by Hans-Jürgen Grabbe
Back Issues of the American Studies Journal (38–48, ISSN 1433-5239) / American Studies Newsletter (1–37):
No. 48 (Winter 2001)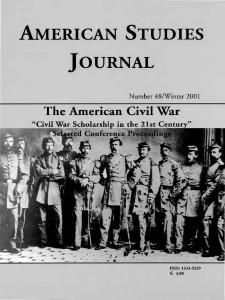 [Table of Contents] » PDF
No. 47 (Summer 2001)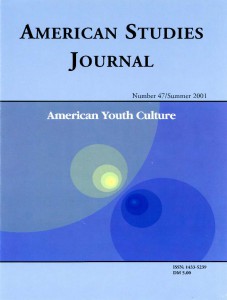 [Table of Contents] » PDF

No. 46 (Winter 2000)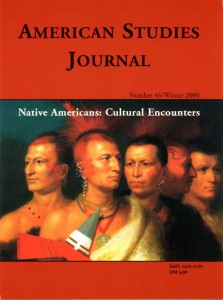 [Table of Contents] » PDF

No. 45 (Summer 2000)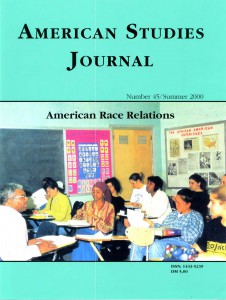 [Table of Contents] » PDF

No. 44 (Winter 1999 / Spring 2000)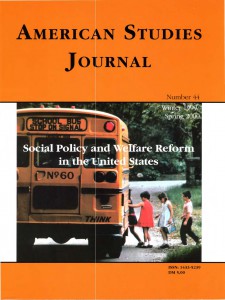 [Table of Contents] » PDF

No. 43 (Summer 1999)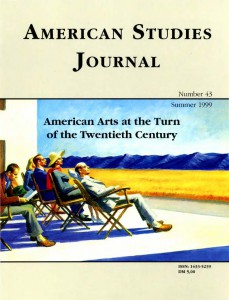 [Table of Contents] » PDF

No. 42 (Winter 1998)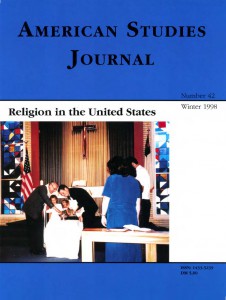 [Table of Contents] » PDF

No. 41 (Summer 1998)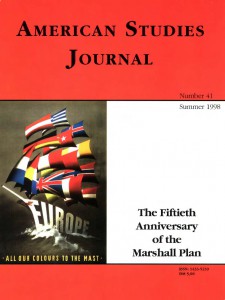 [Table of Contents] » PDF

No. 40 (Summer 1997)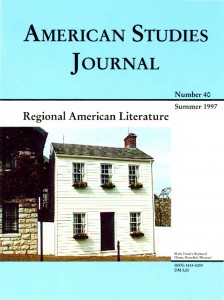 [Table of Contents] » PDF

No. 39 (November 1996)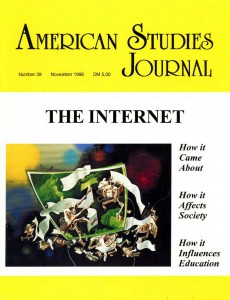 [Table of Contents] » PDF

No. 38 (April 1996)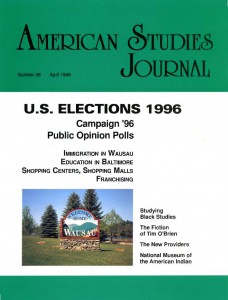 [Table of Contents] » PDF
American Studies Newsletter No. 37 (September 1995)
– California Dreams
– American Democracy
– The American Family
– American Literature
– American Studies Miscellany
– News / Notes / Views
American Studies Newsletter No. 36 (May 1995)
– Educating for Diversity
– Society
– Information Technology
– History
– Literature
– American Studies Miscellany
– Documentary Texts
– News / Notes / Views
American Studies Newsletter No. 35 (January 1995)
– American Indians Today
– American Studies Miscellany
– News / Notes / Views
American Studies Newsletter No. 34 (September 1994)
– Urban America
– Living with Diversity
– Literature
– American Studies Miscellany
– News / Notes / Views
American Studies Newsletter No. 33 (May 1994)
– U.S. Sports
– Society
– Literature
– Language Page
– News / Notes / Views
American Studies Newsletter No. 32 (January 1994)
– The Information Society
– The Immigration Debate
– George Washington
– Seattle
– American Studies Miscellany
– Language Page
– News / Notes / Views
American Studies Newsletter No. 31 (September 1993)
– American Mosaic
– The Age of Jefferson
– American Studies Miscellany
– News / Notes / Views
American Studies Newsletter Anniversary Edition (1983-93)
– American Studies: The Discipline
– A Postmodern World Order?
– American Society
– Popular Culture
– Literature
American Studies Newsletter No. 30 (May 1993)
– Media Observations
– American Studies Miscellany
– News / Notes / Views
American Studies Newsletter No. 29 (January 1993)
– U.S. Foreign Policy
– Multiculturalism
– Martin Luther King, Jr.
– American Studies Miscellany
– News / Notes / Views
American Studies Newsletter No. 28 (September 1992)
– U.S. Presidential Elections
– Social Policy
– Literature
– Columbus
– Demographics
– American Studies Miscellany
– Language Page
– News / Notes / Views
American Studies Newsletter No. 27 (May 1992)
– U.S. Presidential Elections
– Columbus Quincentenary
– American Studies Miscellany
– News / Notes / Views
American Studies Newsletter No. 26 (January 1992)
– Focus on the Environment
– American Studies Miscellany
– News / Notes / Views
American Studies Newsletter No. 25 (September 1991)
– A Nation of Immigrants
– E Pluribus What?
– American Politics
– American Studies Miscellany
– Quizzles
– News / Notes / Views
American Studies Newsletter No. 24 (May 1991)
– American Education (II): Higher Education
– American Studies Miscellany
– Language Page
– News / Notes / Views
American Studies Newsletter No. 23 (January 1991)
– Washington, D.C.
– Bill of Rights
– American Politics
– Los Angles, California
– American Studies Miscellany
– News / Notes / Views
American Studies Newsletter No. 22 (September 1990)
– American Business: Perspectives
– U.S. Supreme Court
– America's Official Language
– U.S. Census: 2000 Years
– American Studies Miscellany
– Language Page
– News / Notes /Views
American Studies Newsletter No. 21 (May 1990)
– American Education (I)
– American Studies Miscellany
– American Studies Quiz
– News / Notes / Views
American Studies Newsletter No. 20 (January 1990)
– American Government
– Black Americans
– History
– American Culture
– American Studies Miscellany
– Language Quizzles
– News / Notes / Views
American Studies Newsletter No. 19 (September 1989)
– Heading for the 21st Century
– American Studies Miscellany
– Language Page
– News / Notes / Views
American Studies Newsletter No. 18 (May 1989)
– Culture
– Constitution
– Politics
– Society
– Literature
– American Studies Miscellany
– Quizzles
– News / Notes / Views
American Studies Newsletter No. 17 (January 1989)
– In Search of the American Heartland: Places and People
– After the Elections
– Language Page
– News / Notes / Views
American Studies Newsletter No. 16 (September 1988)
– Hispanics in the United States
– Elections '88
– News / Notes / Views
– Language Page
American Studies Newsletter No. 15 (May 1988)
– Recent American Fiction (I)
– Elections '88
– News / Notes / Views
American Studies Newsletter No. 14 (January 1988)
– The United States as a Nation
– U.S. Presidential Elections
– American Studies Miscellany
– News / Notes / Views
American Studies Newsletter No. 13 (September 1987)
– Religion in America (II)
– The Marshall Plan, 1947-1951
– American Studies Miscellany
– News / Views / Sidelights
– Language Page
– Reviews
American Studies Newsletter No. 12 (May 1987)
– The Constitution in the United States (II)
American Studies Newsletter No. 11 (January 1987)
– The U.S Constitution (I)
– Religion in America (I)
– News / Views / Sidelights
– Reviews
American Studies Newsletter No. 10 (September 1986)
– The Statue of Liberty Centennial
– Elections
– Newsweeklies and Think Tanks
– American Studies Miscellany
– Letter to the Editor
– Reviews
American Studies Newsletter No. 9 (May 1986)
– American Cities-Recent Developments
– American Studies Miscellany
– News / Views / Sidelights
American Studies Newsletter No. 8 (January 1986)
– The Cowboy Hero
– The New West
– American Studies Miscellany
– News / Views / Sidelights
American Studies Newsletter No. 7 (September 1985)
– Federalism in the United States
– America in the 1980s: The Eagle Spreads its Wings
American Studies Newsletter No. 6 (May 1985)
– Special Section: Mark Twain
– American Studies Miscellany
– News / Views / Sidelights
– Reviews
– Language Page and Quizzes
American Studies Newsletter No. 5 (January 1985)
– Regionalism
– The American South
American Studies Newsletter No. 4 (September 1984)
– U.S. Presidential Elections 1984
– American Studies Miscellany
American Studies Newsletter No. 3 (May 1984)
– Media in the United States
– News / Views / Sidelights
– Reading and Reviewing
American Studies Newsletter No. 2 (January 1984)
– Articles
– American Studies Miscellany
– News / Views / Sidelights
American Studies Newsletter No. 1 (September 1983)