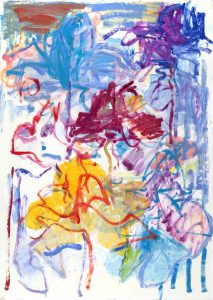 If you could have wings would you want them?
I don't know.
I mean, if you could use them to fly, would you want them?
Yes, if I could fly.
But they would be really big.
How big?

They might brush against your knees as you walked, or be bigger than some doorways.
And what if you couldn't ever take them off?

I still would want them.
If you couldn't take them off, even if you were going somewhere,
or going to bed, or eating at a table, or you wanted to pick
someone up, you could never take them off?

Yes, I would. I would still want them.
Because you could fly?
Yes, because of the flying.
And if they were heavy, or even if no one else had them, and even if
your children and their children didn't have them?
Yes, I think so.
But you would still have arms and hands and legs, and you could still
speak, but you had wings, too. You would want the wings, too?
Yes, I would want the wings, too.
And when you were walking around, people would stare at you, and they
wouldn't necessarily understand that you could fly?
I understand. I understand that they wouldn't understand.
Or if people thought they meant something, something they didn't really
mean?
I would know what the wings were for.
And if you had them, forever—the forever, I mean, that is your life,
you would still want them?
Yes, I would want them. I would take them, so long as I could fly.
that I might fly away
that I might fly away where the ships
that I might fly away where the ships of pine wood pass between the dark cliffs



Special Copyright Notice
"Wings" from Cinder: New and Selected Poems, Graywolf, 2017. © 2017 by Susan Stewart. Reprinted with the permission of Graywolf Press, Minneapolis, MN, www.graywolfpress.org.
As a default, articles in the American Studies Journal come with a CC BY licence to foster reuse and wide dissemination. This issue, however, contains several articles and images that require a less liberal licence. Together with the editors and contributors we have agreed on the exception to publish ASJ 67 without a licence to reuse. You may download and print this issue for your private use. Please cite according to the applicable intellectual property rights legislation. Should you want to reuse or republish parts of ASJ 67, please get in touch with Göttingen University Press to negotiate an individual licence.
Suggested Citation
Stewart, Susan. "Wings." American Studies Journal 67 (2019). Web. 29 Nov. 2023. DOI 10.18422/67-02.