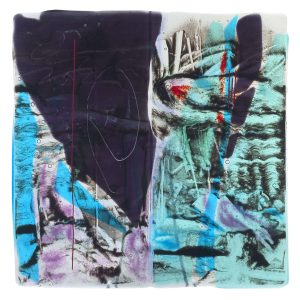 1
Five weeks after her sister died, she was scheduled to speak at a writers' conference. She'd been invited nearly a year before. Her husband kept assuring her she could cancel: she was grieving. Too true.
2
But she was getting better, sort of. By this point, she only started crying when someone approached and told her how sorry they were to hear about her sister. Unfortunately, she lived in a small town, so this happened every time she went anywhere, even to the stupid grocery store, that's her in the freezer section, door wrenched open, doubled over in the mist, tears pocking the stupid faces of the stupid frozen pizzas, all because another stupid couple had come and put their warm and stupid arms around her. She had headaches all day from her temples vising the pulsing sobs.
3
She kept not being able to write the email, the email to the conference director, the one that began "sorry" and "sister" and "sudden." She kept not being able to write it until finally it was too late, she had to board that plane.
4
When she disembarked, a college student waited, holding a sign with her name. He grinned, recognizing her from her author photo, and lifted her duffel from her shoulder, then drove her in his doorless Jeep over an arcing bridge to the island, the pretty little island. As he sped along, he questioned her, but only about her books. Her books! Her news had not reached this outlying kingdom. She answered, listened to her answers. Her advice was sound. Her voice unwavering. Her body angled toward his. She was impersonating a woman whose sister was extant, and workshopping her impersonation.
5
She passed. She taught a class on metaphor which was well received. She dined with the other writers and when they laughed she laughed and observed herself laughing and thought, This is . . . mirthful. She drank wine at the wine-drinking times and signed books at the book-signing times. Beach walks occurred. Occasionally she felt something hysterical winging up through her throat, the propulsion of it could almost lift her off the ground, a howl, or a laugh, or some combination new to the human register, but she did not vocalize those vowels.
6
After three days, she returned home. The plane bounced twice as it landed. She gathered her belongings from the overhead bin. To prepare to meet the faces she would meet, she stepped into her suit of grief. She pulled it up, over her legs, her hips. She threaded her arms into the sleeves of grief. She huffed it over her back. She snugged it around her shoulders. She buttoned herself tight. Its weight was dear. Dear, dear, dear. She would wear it forever now. Indeed, not one soul would recognize her without it.
Special Copyright Notice
"The Grief Vacation" is printed with permisson by the author, Beth Ann Fennelly. © by Beth Ann Fennelly. "The Grief Vacation" originally appeared in Heating & Cooling: 52 Micro-Memoirs, W. W. Norton, 2018.
As a default, articles in the American Studies Journal come with a CC BY licence to foster reuse and wide dissemination. This issue, however, contains several articles and images that require a less liberal licence. Together with the editors and contributors we have agreed on the exception to publish ASJ 67 without a licence to reuse. You may download and print this issue for your private use. Please cite according to the applicable intellectual property rights legislation. Should you want to reuse or republish parts of ASJ 67, please get in touch with Göttingen University Press to negotiate an individual licence.
Suggested Citation
Fennelly, Beth Ann. "The Grief Vacation." American Studies Journal 67 (2019). Web. 5 Feb. 2023. DOI 10.18422/67-04.